Whether you're selling your home and looking for unique ways to stage it, or simply want to upgrade your interior to incorporate more personality, you can always benefit from adding ambiance. Atmosphere is the primary ingredient for interior designers, and if you plan to channel it, there are quite a few ways you can manage it.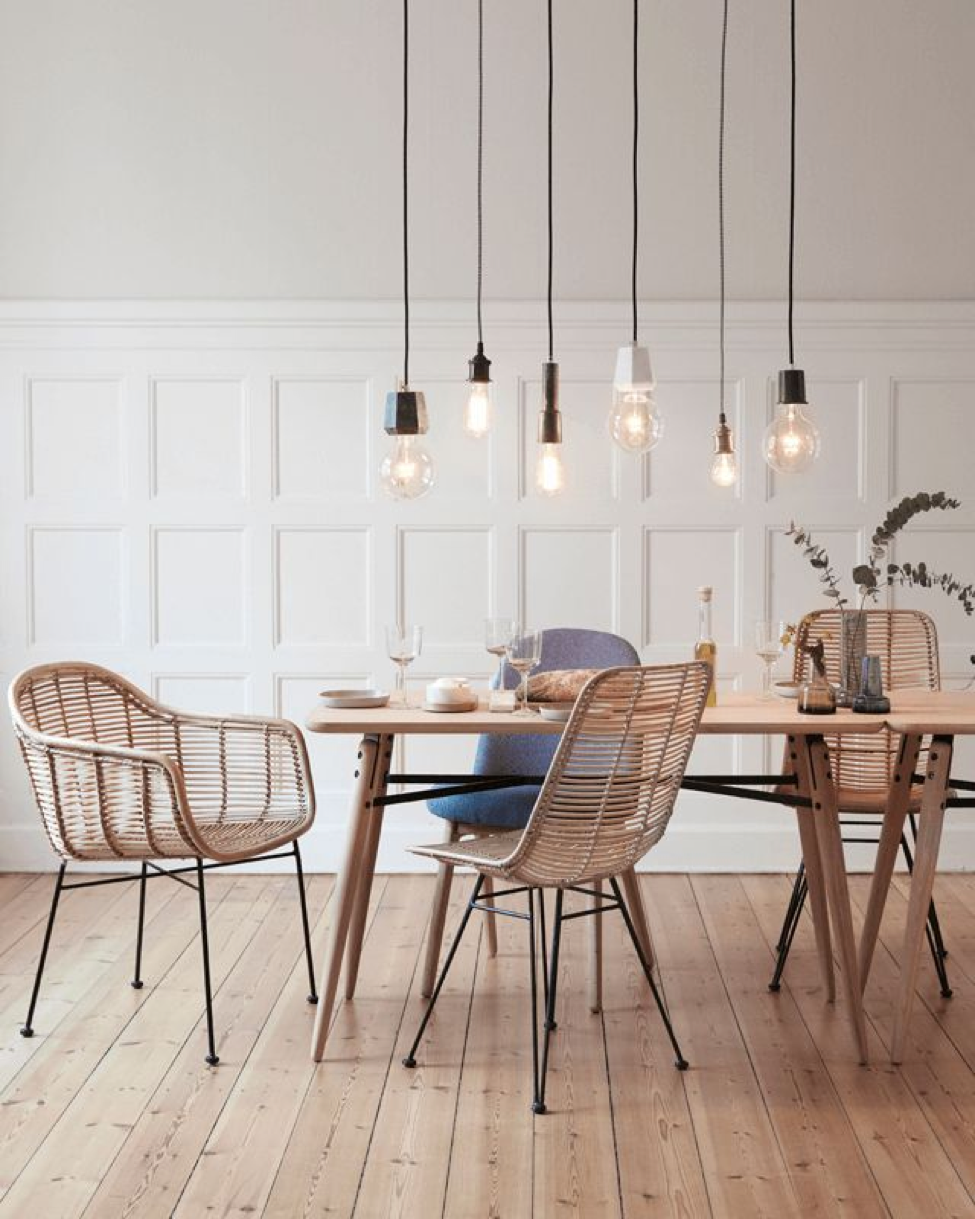 Photo Source: https://i.pinimg.com/736x/2a/4d/4b/2a4d4b435140386aa51bef2cc6a411fc–danish-apartment-dining-room-lighting.jpghttps://www.thesefourwallsblog.com/interiors/spring-summer-2016-collection-from-hubsch/
Add Plants
There are many ways to incorporate nature into your luxury home. Living, breathing plants and flowers add ambiance to your atmosphere in ways you may not realize. Not only do these plants transform even the most modern of homes into peaceful places, but have also psychologically been proven to improve happiness and creativity.
Plants like the lucky bamboo plant can survive in dimly lit spots if you're pressed for sunlight; otherwise, the world is your oyster. Terrariums and air succulents have been trending in the interior design space; their flexibility and high customization options make them great choices for any area of your home, from the kitchen to the bathroom. Hanging plants and ivy — especially along textured walls — will give your home an outdoor aesthetic.
Lighting
Your lighting can have a direct influence on the perception of your home from the moment someone walks through your front door. Think about it: when you're at a show and the lights dim, doesn't it influence your excitement? When you're setting the scene for a romantic date, think about the candles and lighting necessary to create the mood.
Similarly, if you want to convey energy and life, bright, welcoming natural lights help deliver the message. Use it to enhance your decor or highlight specific elements around your home. With that in mind, there are many ways to let light guide the ambience. Here are a few ways you can achieve this:
Install a dimmer. You can purchase and install an inexpensive dimmer from your local hardware store. Some companies will even install multi-color lighting with dimming options. You can also save as much as 25% on electricity by using dimmer switches.
Add backlit lighting. Backlit panels can be a great decorative element for bedroom headboards, mirrors, foyers, or hallways. These lighted wall panels can be customized to fit any wall style.
Add LED lighting. LED lights are so versatile, they can transform any room in a hundred different ways. LED light strips are great for under cabinets, inside drawers, on entertainment centers, and various display cases. Add them to your staircase for functional style.
Incorporate filament bulbs. Edison/Filament bulbs create a relaxing, industrial feel — especially with a cluster ceiling pendant. Check out how these filament bulbs are incorporated into these homes.
Throw In Some Rugs
Rugs can also do wonders for a space transformation and shift in your overall ambience. From a function-style perspective, rugs can help ground furniture groupings and bring color to an otherwise neutral space. For smaller spaces, rugs can also make a huge difference by defining the square feet in the area. With so many styles and materials to choose from, you really can't go wrong with rugs.
Curated Scents
Even the most beautifully designed luxury home in Los Angeles will lose its attraction if it doesn't smell nice. Smell is a major part of a home's ambiance, but it's one that's too often ignored. Fragrance diffusers and candles can help take care of this. For luxury homes, high-end and artisan candles are not only aesthetically pleasing, but contribute to the overall mood and atmosphere.
If you're selling your home, there are certain scents that have been linked to increasing value, or giving off the illusion of increased value. These scents include pine, citrus, vanilla, and even fresh-baked bread. The smell of certain plants like eucalyptus, rosemary, and lavender also set off pleasant fragrance pheromones.
Add Shelves
Believe it or not, shelves aren't just great for storage. They help aid the ambience mission, too. Floating shelves in living rooms walls make a decorative statement and give you space to show off plants, books, and other ambience-adding fixtures. Combine the aforementioned LED accent techniques with your shelving choices, and you've got a winning recipe. Depending on your space, you might create an entire wall for your shelf, or keep it to a minimum. Check out these shelving ideas to steer you in the right direction.