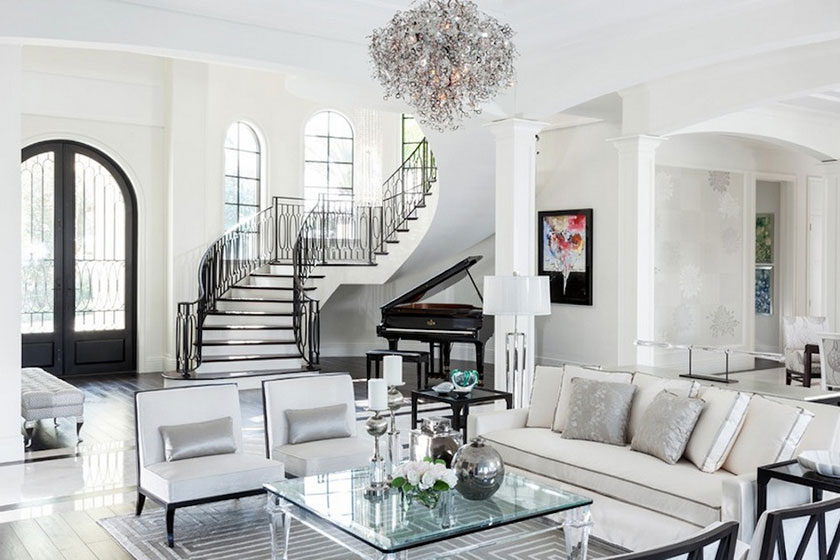 Photo Credit: Freshome.com
Staging is standard practice these days, and few homeowners will forego staging prior to putting their homes on the market. An entire industry of staging professionals, furniture leasing companies, and interior designers has sprung up around the premise that carefully staging a residential real estate property will ensure a higher final sale price.
According to the national Real Estate Staging Association (RESA), staging does have a measurable albeit modest benefit. It can raise a home's final sale price by as much as ten percent, and shave the time a home spends on the market by as much as three months. Depending on the value of the property and local market trends, this can translate to significant savings. Ten percent of half a million dollars, after all, is fifty grand – and three months can make the difference between a peak season and a slow season sale.
However, it's worth wondering whether these general advantages apply to luxury real estate, since the luxury real estate market is by definition distinctive. There are certainly staging consultants who specialize in luxury interiors, just as there are realtors who specialize in luxury real estate.
Does staging help sell luxury properties faster? Does it guarantee a higher asking price? In this post, we'll give you a concise summary of staging strategies tailored to luxury real estate – and some of their comparative advantages and disadvantages, so you can be better informed when you consult with a staging specialist.
Photo Credit: Archdaily.com
Putting Prospective Buyers in the Frame
Many home sellers picture staging as a kind of dressing up – redecorating a home so that visitors will be dazzled by its beautifully-appointed interiors. It's true that staging professionals use many interior design techniques, but the intention is somewhat different, and this is especially worth considering in a luxury market.
Staging is not meant to create a strong impression of vivid or eclectic design. The goal is to open up an interior to a client's imagination, creating a kind of blank canvas or bare stage where they can more easily place themselves. The best interior design is imbued with personality, but the best staging design is often characterized by a sense of possibility.
However, this advice might come with some luxury-specific caveats. Luxury homes are never one-size-fits-all. They're often unique, and often designed by architects expressing a highly singular vision. Luxury real estate clients aren't looking to buy a new home. They're drawn to a particular property for its individual appeal.
For that reason, luxury home staging techniques are often far more dramatic and colorful than average. Staging professionals will often design a staging plan around a property's unique historical or architectural features. Depending on the property's provenance and architectural style, they may seek to highlight its history with period furnishings, art, and ornaments.
Photo Credit: Updatethemetroplex.com
Photo Finish
Real estate marketing is digital marketing, and your agent will most likely design a marketing plan that incorporates multiple forms of visual media for digital publication on a variety of platforms. This is where staging can really prove to be a strong investment, since it ensures that your home will look its best in every ad and social media post.
This enhancement may be even more important for luxury real estate properties, since your home is more likely to feature in a wide range of higher-end marketing materials and advertising formats. Unlike your average home sale, luxury properties often receive print coverage, either from local papers or from magazine outlets and websites dedicated to luxury real estate and related interests like architecture.
In cases like this, staging can be doubly advantageous. On top of the guarantee that your home will look spectacular when the article goes to press, you'll know that your interiors will compete with glossy home décor spreads. Readers will also associate your home with the on-trend design elements and high-profile designers and architects profiled on facing pages, adding to its prestige.
Photo Credit: Designedtomove.com
Pret-a-Mover
An alternative trend in staging for luxury properties is making the residence "toothbrush ready," or prepped for immediate occupation by the buyer. This approach will help you appeal to buyers with high-powered jobs or lifestyles that include a great deal of international travel, as well as anyone who may be looking to purchase a second home.
"Toothbrush ready" polish also requires a much more intensive level of staging and a much more premium grade of furnishings, housewares, and accessories. These must strike a balance between signature luxury design elements and a wide variety of tastes. This is where the services of a home staging professional can be extremely valuable, particularly someone with a strong background in luxury interior design.
However, your own experience of living in your home is also important here, because it will help your consultant develop a staging plan based on your home's unique assets and ambiance. Your sense of its best features and most welcoming rooms is an essential component in highlighting its special appeal as a living space.
As with every other part of the sales process, your staging plan will be highly individual. But a staging professional may help you showcase your luxury home for discerning buyers, which can translate into a faster and more profitable sale for you!
About the Author: An acknowledged expert in luxury coastal properties with more than fifteen years of real estate experience, Kym Talbert is devoted to serving the needs of home buyers and sellers in coastal Orange County. Known for integrity and perseverance, Kym combines unparalleled customer service with a state-of-the-art web marketing presence.