The real estate industry is a malleable one; when new technology surfaces that could help streamline or enhance the experience for buyers and sellers, many are quick to adopt. Virtual reality, however, is met with much skepticism in many industries — especially outside of big cities. Business owners and thought leaders consider virtual reality more of a gaming, extracurricular staple than something that fits into the corporate world.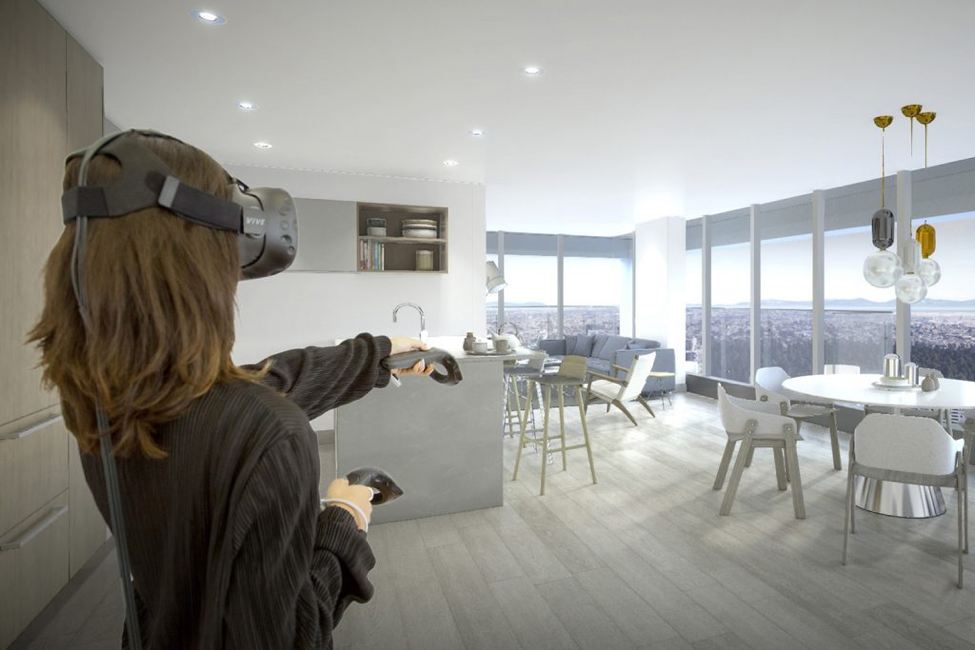 Photo Source: https://torontostoreys.com/wp-content/uploads/2017/01/Virtual-Reality-Real-Estate-1024×683.jpg
However, this simply isn't the case anymore. Whether you realize it or not, virtual reality is poised to revolutionize the real estate industry. One Goldman Sachs report on virtual and augmented reality predicted that virtual tech in the real estate market alone would be worth $80 billion by 2025 (the current size of today's PC market). Here's what the future of virtual reality in real estate could look like:
Virtual Tours
As you can imagine, the visual power afforded by virtual reality technology can make the buying and selling pipeline much more streamlined. Long gone will be the days where buyers say, "It looked different in the pictures."  Using a combination of 360-degree videos and complementing tech, buyers can experience homes like never before. They'll be able to picture themselves on the property long before they even visit it.
These immersive viewing experiences will become even more pertinent for luxury homes around the world, because the pool of potential buyers is much smaller than, say, a traditional family starter home.
In the next decade, industry insiders predict virtual reality take an even deeper approach to real estate buying through interactive visits. Through these type of tours, buyers will be able to interact with the environment by using "hotspots" to go through a virtual walkthrough of the space.
Show Off Unfinished Properties
Through the use of guided virtual visits, agents can show properties that are still under construction.  Azad Abassi, founder of a company that produces 360-degree videos, used existing tech to show off an unfinished building in Montreal.
Abassi told Forbes, "…We mixed different types of mediums within the virtual experience, using 360-degree photography, video footage and 3D renderings. The photography was used at the beginning of the experience to set the tone, with inserts like picture-in-picture and stop-motion graphics."
Time Saver
Agents can forget about rushing from one home to other, time after time. Virtual reality speeds up the buying process and saves an immense amount of time. Many elements that are out of the agent or broker's control — like traffic or bad weather — no longer become issues for either parties in the buying process.
Additionally, buyers can sort through homes much quicker, filtering out the properties they like and dislike at a pace that's much more leverageable for the agent. And because virtual viewings feel tangible, agents will likely see a decrease in the amount of physical showings. Buyers can see many more homes virtually and shortlist those they're most interested in.
Reach A Wider Audience
Digital experiences also offer agents the opportunity to show property to international leads. This gives international and out-of-staters a chance to explore the home before they commit to an on-site visit. This ability will likely lead to an increase in foreign investments — an area that's difficult for local agents to break into. With virtual reality, a buyer in Japan could explore a luxury home in Los Angeles from the comfort of his home.
Keep Viewings In The Cloud
Virtual viewings eliminate the need to take dozens of photos and videos on a tour. With this technology, viewers can access their virtual viewings in the cloud, saving them for as long as they like. This can also save plenty of time; rather than go back for a second look, they can access their videos again and again, directly from their mobile device. They'll also be able to easily share these viewings, which will help streamline the decision-making process.
Companies Building Real Estate VR Today
While the real potential for the real estate industry lies in the future, there's still plenty of movement happening today, and buyers and sellers don't have to wait for the next ten years to take advantage of the most advanced VR.
San Francisco-based Studio 216 is one company that creates virtual reality applications, specifically to demonstrate spaces that don't exist. Their goal is to show clients "what the future looks like." And this is exactly what they did with Seattle's Luma condominium project, which allowed prospective buyers to tour units to give them a feel for what to expect. The agency even used drones to capture floor-by-floor perspectives, allowing tour-goers to look at out of virtual windows and see lifelike views of what they would eventually see upon building completion.
Waiting too long to adopt to VR could overwhelm agents in the future. Rather than wait until it becomes the norm, agents might want to check it out and see how they can benefit from it in their businesses.