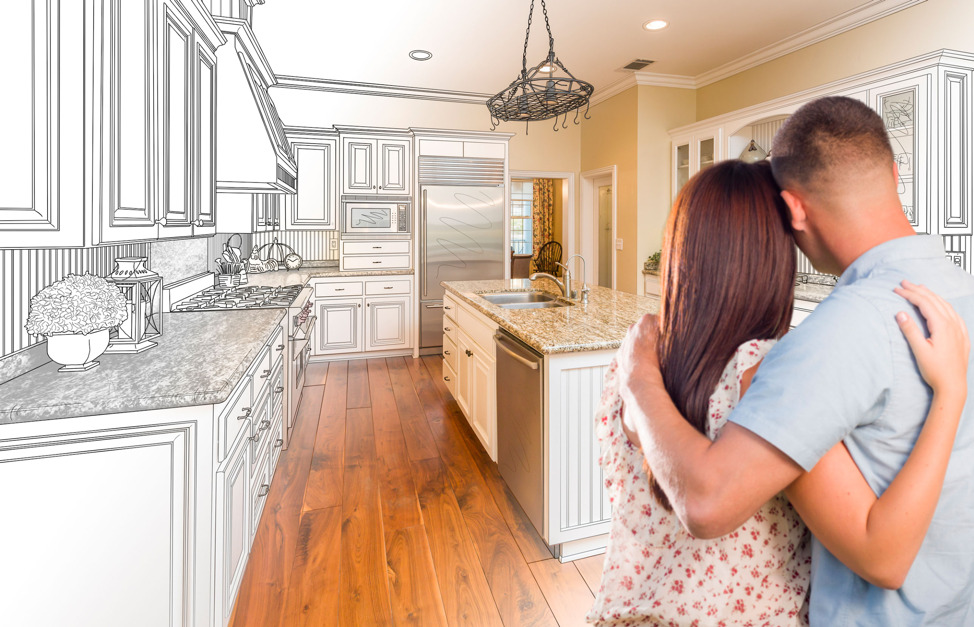 Putting your home on the market can be a difficult process. Regardless of your reasons for listing your home, it's important that you get a high price tag. In order to get the most money out of your home, chances are you'll need to make a few renovations. However, this doesn't mean you should run towards gutting your entire kitchen. There are plenty of rehab mistakes you'll want to avoid. When it comes to renovating your home for the sale, it's important to make smart renovations—not expensive ones. Small, smart renovation projects can go a long way towards improving your overall appeal and value.
When you renovate your home to put it on the market, your primary goal is to recoup your costs. It wouldn't be fiscally responsible to spend $10,000 on a bathroom remodeling project if it didn't help your home value increase by more than $10,000. Generally speaking, you shouldn't spend more than six to ten percent of the home's current value if you expect to improve its value. Here are some tips to steer you in the right direction:
Start With Your Kitchen
Your kitchen and bathroom are two very important places in your home, and you should pay particular attention to these areas. Your kitchen cabinets and counters should be your primary point of focus. When someone walks into your kitchen, it's the first thing they notice, and as such, you should pay attention to these areas.
For instance, laminate or ceramic countertops may come across as cheap looking. Work with a listing agent who can help you understand current trends in comparable homes. Granite is very popular among homebuyers, and though this is an expensive material, there are ways you can get it a little cheaper, such as purchasing unused slabs from construction projects. You can check local Facebook groups and Craigslist ads for granite for sale by owner.
Wear and tear and scratches on cabinetry can also push potential buyers away, especially if they don't want to deal with renovation efforts of their own. Today, melamine cabinets aren't very popular, unless you're on a very tight budget and simply want to give your kitchen a fresh look. Sometimes, a repainting job and new hardware fixtures can go a long way towards making your kitchen look completely different.
Improve Curb Appeal
The curb appeal of a home is very important; this first impression sets the tone for what's to come. In real estate, great curb appeal can increase perceived home value by 5%. This means your pavement should be properly paved, your lawn space maintained, and your exterior home walls freshly painted. Flowers and a bit of landscaping also help boost the visual appeal.
Update Your Floor
Updating your floors gives your home a fresh, clean feel. This is especially true if you have carpets—trading them for hardwood floors could be a very lucrative decision. According to the National Association of Realtors, home buyers are willing to pay extra to pay extra for hardwood floors. This isn't just for luxury homes, either. Another study found that 87% of home seekers looking for a home in the $100,000 to $150,000 range preferred to have hardwood floors. Hardwood flooring is also more durable and easier to maintain. Alternatively, if you already have wood flooring, you could give it a good sanding and fresh coat to make it look brand new.
Knock Down Walls
Take this advice with a grain of salt. Not all homes will be better off with an open floorplan, though there's no denying that this is a steady trend in many areas. Open floor plans make a home feel larger, help disperse natural light, and make it easier to host and entertain. It also helps create a cohesive flow from room to room. If open floorplans are commonplace in your area, consider knocking down some walls to make this a reality with your home.
Of course, knocking down walls should also be a part of your budget. While knocking down walls can be on the pricey side, it may be less expensive than you think. For example, knocking down a non-load bearing wall in a single-family home can cost as little as $3,000. However, not all walls are created equal. It's one thing to knock down a wall in your kitchen to open it up to your living room or dining room, but might not be smart to knock down a bedroom wall to create one larger room—this could actually hurt your home value.
Update Your Bathroom
The bathroom is one of the most important areas of the home. Many homebuyers would be happy to pay a little more for a bathroom that evokes a spa-like experience. Building a budget around bathroom amenities and fixtures will help improve your value. You don't have to gut your bathroom to do this; for instance, instead of replacing your tub or shower, you can refinish or reline it. A fresh coat of paint, new fixtures, and good staging will also do the trick.
Incorporate Some Ambiance
Not all changes you make to your home need to be extensive, value-boosting renovations. Sometimes subtle changes help boost your home's overall appeal, which improves the value of the home in the eyes of the potential buyer. Improving your homes overall ambiance makes it easier for those potentials to imagine themselves living there. It's also a budget-friendly way to add a "wow" factor to the open house experience.
Simple changes go a long way. For instance, lighting can completely transform the energy of a space. Installing lighting under your cabinetry or inside cabinets is both appealing and functional. A statement chandelier, artwork, plants, a curated coffee corner, throw pillows and decorative fixtures all combine to create a beautiful space.
It helps to browse interior design magazines or put together some images on Pinterest that you can refer to for inspiration. Often, you'll be able to find easily find great pieces and hunt the Internet for their cheaper, similar-looking alternatives. Setting the scene helps your home appear even more valuable than similarly-valued homes, giving you a leg up on the competition. Check out this guide on how to improve ambiance in your home.