Staging is a critical part of the home-selling process. It's important for homeowners to create a homey, lived-in look that accurately represents the style of the home, and even the town, city, or neighborhood you live in. Furthermore, the master bedroom can be a major selling point or a disappointing deal-breaker. The ambience, color, and light should all come together to create a cohesive look.
It's critical that you appeal to the home buyer, which means a redecoration may be in order for you. While bold, vibrant tones or dark colors might work for your personal style, staging a room is all about appealing to someone else––not yourself. You'll have to look at your room from the outside in to accomplish this. Neutral colors work best for appealing to different types of styles.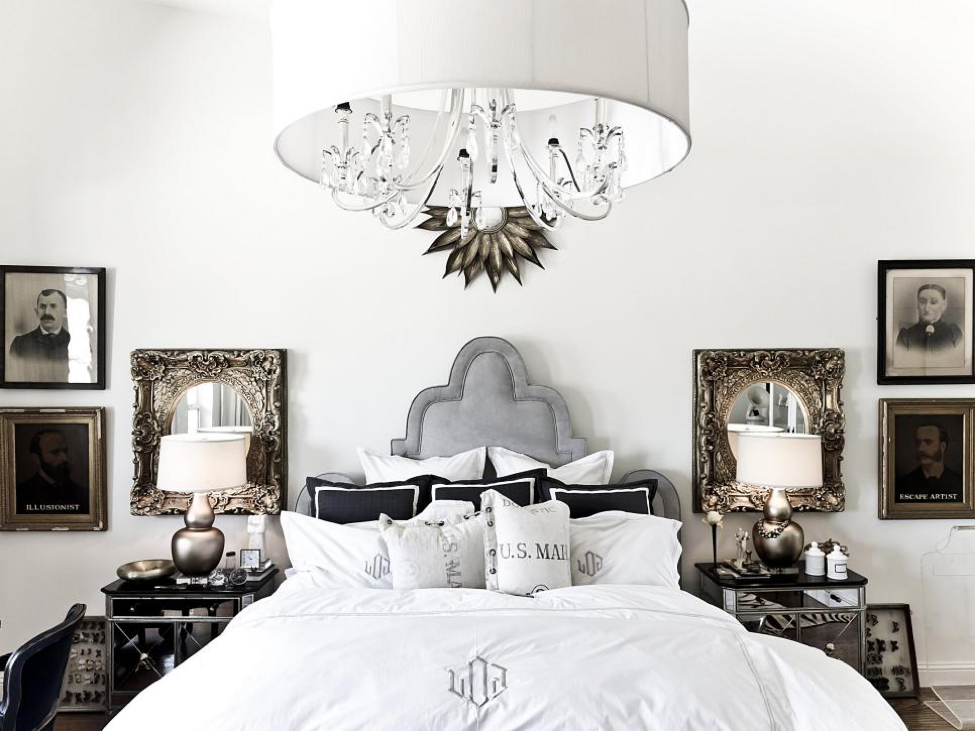 Photo Source: https://hgtvhome.sndimg.com/content/dam/images/hgtv/fullset/2011/6/6/0/Original_Jamie-Laubhan-Oliver-vintage-inspired-white-elegant-bedroom_s4x3.jpg.rend.hgtvcom.966.725.suffix/1400958981499.jpeg
With that in mind, here are other bedroom staging tips to consider:
Dress The Bed
Your bed is the focal piece of your bedroom, and should be treated like the main attraction. This means fresh, simple duvet sheets, fluffy pillows, and throw pillows. White linens will give the bedroom a spa-like feel, while matching the bedding with the color of the walls will make the bedroom feel larger. Throw pillows are the perfect opportunity to express the emotion of the room and add color to an otherwise neutral space.
Pay Attention To Lighting
There are quite a few ways to optimize the lighting in your room. Accent lights allow you to highlight certain areas of the space, like bookcases, headboards, shelves, and artwork. LED lights are highly effective when creating an accented light aura. If your bedroom isn't too busy, consider a staple light piece, like a chandelier or single flush-mount fixture.
Be sure to have table lamps on your nightstands that match the style of your room. Wall sconces, whether they're modern or vintage, help save space on your nightstand while providing a decorative element to that area. Other task lighting, like an arched floor lamp, make for perfect light source additions.
Accent Pieces & Decoration
Accent pieces add character to your bedroom. Your accent pieces should reflect the bedroom personality, and options are limitless in this area. There are a few categories in the accent area to consider: lighting, art, plants, and decoration among them. These subtle bits help create a cohesive, fluid feel to your master bedroom.
Creating A "Lived In" Look
Simply put, your bedroom feels more homey when it looks lived in. This can be confusing for some sellers, who want the home to look lived in, but also want their home to look crisp and clean like an interior design ad. Fortunately, there are cool techniques to bridge the gap between these two.
Keep in mind that the lived-in look you're going for doesn't necessarily mean you want your home to look like people live there––but rather, you want it to look like people can picture themselves living there.
Here are some live-in tips to consider:
A nice throw blanket on the bed or draped over armchairs. Go for a thick, trendy rope-knit throw or soft-colored cashmere.
Open hardcover books. Books tend to evoke emotion and homeliness; an open chapter on your bed or nightstand will flow well. Go for the classics or bestsellers.
Show your storage. Organized, useful items make a home feel filled and clean. Put simple items in plan view when it comes to storage; for example, filling a copper wire basket with toilet paper.
Distress some items. Even in modern homes, distressed and/or vintage furniture can bring character to your room.
Create an art wall. Art is one of the most effective ways to make your bedroom (and home) feel like yours. A personalized art wall can be a combination of framed family photos and visual art. Take a look at these amazing wall art projects for inspiration.
Utilize wall shelves. They bring character and liveliness to your room. Keep in mind that you don't have to stick with basic, linear shelves. There are so many things you do with shelf shapes (like these hexagonal and triangle shelf shapes) and arrangements. You also don't have to have to delegate yourself to just books. Throw in plants (especially terrariums), standing frame artwork, flowers, small storage boxes, jars, candles, and other trinkets.
Don't Forget The Greenery
A well-loved and lived-in home has greenery to boast, and your bedroom should be no different. These plants bring in vibrant color and carry a pleasant, natural outdoorsy smell. Fortunately, there's plenty of ways to bring nature into your home. Studies have even shown that there are psychological benefits of having plants in your space, as they create restorative environments. Incorporating plants into your art wall and shelves can enhance the aesthetic and overall style.
Fill In The Gaps
For large master bedrooms, too much empty space can create a boring, plain look. It's not uncommon for bedroom corners to have an awkward, empty look. If this is the case, consider creating a sitting area or reading nook.
Keep in mind that "less is more" is still the rule to follow when it comes to design and decoration, so when it comes to filling in the gaps, this doesn't mean to overcrowd. It's important to create balance in a room, and too many things happening at once can distort that balance.