Your living room is your home's meeting space; it's the conference room of your lifestyle. There are dozens of interior design styles to choose, but no place in your home stands as a testament to your design choices more than your living room. Whether you're redecorating or remodeling, here are a few ideas for inspiration, separated by home themes.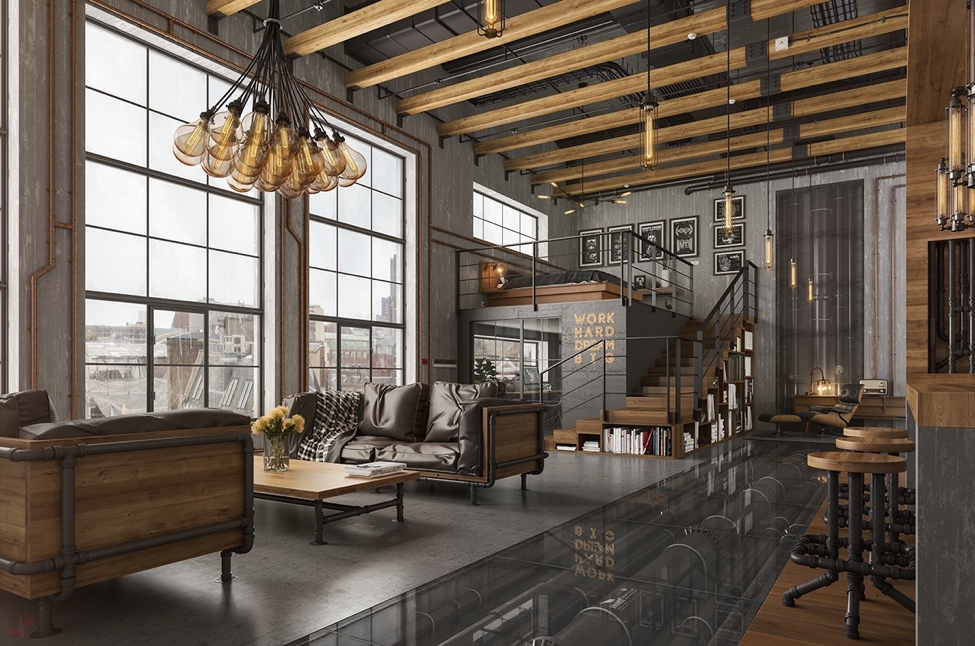 Photo Source: Home Designing – https://cdn.home-designing.com/wp-content/uploads/2017/06/loft-idea-bulb-chandelier-industrial-living-room-lighting.jpg
Nautical/ Coastal
A nautical theme is perfect for luxury homes along the coast, or any home that's simply inspired by the ocean. Fortunately, you don't always have to play by the "rules" and keep it navy blue and white. While white is an integral part of the nautical aesthetic (complemented by navy blue), pops of coral work perfect for nautical themes and add a nice twist. Try a nice pinstriped carpet or an armchair with bronze-studded upholstery.
Decorative elements to consider: weathered wood pieces, vintage clocks, model boats, classic life preserver (they come in a variety of colors), seashells and seaglass
Inspiration: 50+ Nautical-Inspired Rooms
Modern
Choosing a modern theme for your interior is a great choice, whether you live in a newly built home or an historic one. The term "modern" in interior design is fairly broad, leaving ample room for tweaking the concept. What really captures the modern aesthetic are the elements that ground it.
With modern homes, incorporate a simple color pallette, crisp, clean lines, high-end furniture and artwork, and unique uses of glass, steel, and metal. Instead of a round coffee table, for example, go for a rectangular glass and chrome/metal table with sharp lines. The overall feel is "sleek" and "simple." Geometric shapes and pops of bold color work will in modern design.
Decorative elements to consider: Textured fabrics, animal prints (leopard, cow, zebra, bear, high-end, dramatic vases (with flowers and other plants), sculptures, stainless steel fixtures
Inspiration: 18 Stylish Homes With Modern Design
Minimalist
The minimalist design is the simplest of them all, and is about quality over quantity. Its foundation consists of taking modern design and striping it of any complications. There's no clutter with minimalism: every piece in the minimalist living room serves a purpose and gets straight to the point. This doesn't mean the decoration has to be muted; on the contrary, minimalism has many statement pieces, but is executed in a balanced, proportionate way that doesn't overwhelm the eyes.
Decoration elements to consider: Straight-lined bookshelf walls, color pop art, simple statement plants like succulents, orchids, and cacti, spectacular, multi-dimensional light fixtures, standout window treatments
Inspiration: 20 Minimalist Living Rooms
Industrial
Industrial design is reminiscent of urban lofts, warehouses and, well, industrial buildings, and it draws its inspiration from those factors. Exposed brick, ductwork, and wood are popular elements of this interior option.
With industrial design, there's sense of rawness and unfiltered style. It's not uncommon for a living room designed with industrial interiors to look "unfinished," yet the end result appears highly purposeful. It would be novice to believe that unless you live in a loft, an industrial style wouldn't fit your home––even the most modern, luxury homes in Los Angeles could pull off an industrial look if executed correctly. Ideally, you'll have an open floor plan to take full advantage of industrial design capabilities. Restoration Hardware is a great place to shop for all things industrial.
Decoration elements to consider: Exposed brick (you can achieve a worn brick look with using brick veneer), galvanized metals, distressed rugs (tribal or ethnic), woven throw pillows and blankets, canvas art, Edison bulbs
Inspiration: 30 Stylish And Inspiring Industrial Living Room Designs
Bohemian
Bohemian style is very vintage and warm at its core. It draws inspiration from nature and art. This aesthetic reflects a carefree lifestyle, and emphasizes textures, textiles, and trinkets. It's not uncommon for people who choose the bohemian look to fill space with flea market finds and combine it with other high-end pieces.
That's the great thing about Bohemian: you can mix and match price points, and the end result is beautiful, cohesive look that makes price seem like an afterthought. Shops like the Antique Farmhouse are the perfect place to find reclaimed wood and hundreds of other bohemian-inspired looks.
Decorative elements to consider: Vintage steamer trunks, wall ivy (and plenty of other greenery), extensive wall art, burlap pieces, fringe curtains or lamps, ornate boxes, wall maps, globes
Inspiration: 85 Inspiring Bohemian Living Room Designs