Technology has made interior design even more accessible than ever. Rather than eliminate the role of interior designers, it's helping them do their jobs better than ever. And homeowners are using decorating apps to plan relocations and redesigns without getting overwhelmed. Whether you're designing a powder room or staging a master bedroom, these apps can help you bring your vision to life.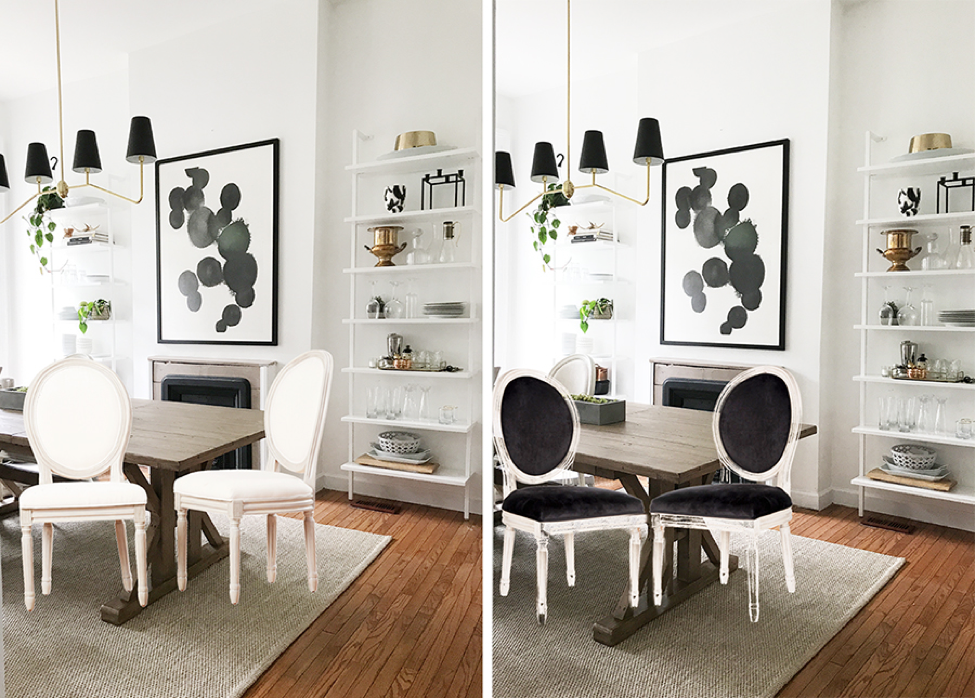 Photo Source: Elizabeth Street Post – https://elizabethstreetpost.com/wp-content/uploads/2017/07/wayfair-try-on-in-room-app.jpg?189db0
Zillow Digs
Zillow Digs is more of an "inspiration" decorating app than anything, but it's very useful. Sort through hundreds or photos across different categories, from kitchens to home offices, and save photos that match your ideal design aesthetic. This interior online database allows users to choose photos they like and source all products from the appropriate local retailers.
If you've ever looked at a magazine or photo on a website and thought "I wonder where that came from"––this is the perfect app for you. All the items and style choices you seek are organized by category, style, and budget across thousands of diverse photos. The application also highlights advice from interior designers based on the style you're looking for. Think of Zillow Digs as a curated Pinterest for your interior decorating needs.
Houzz
Houzz is arguably one of (if not the) best home decorating app on the market. Its full range of capabilities allows homeowners to truly take design into their own hands. According to CNN, this is the "Wikipedia of interior and exterior design." And for good reason.
The Houzz app is a winner because it allows user to view products in photos of their own rooms. Create detailed profiles and share your design looks with the Houzz community and friends. Users are also able to purchase products directly from the app, where products reviews and savings are detailed in their corresponding listings. Lastly, it also serves as an informative design blog, where you can read content published by interior design experts.
ColorSmart by BEHR
Take on your next paint project with a powerful color painting apps. ColorSmart by BEHR is an easy-to-use tool that lets you sort through over 2,000 BEHR paint colors and preview your color choices on interior and exterior walls. There's also a color matching feature that allows you to upload a photo of a wall and receive the best possible match for its color.
Magicplan
Figuring out measurements and deciding what fits where can be a cumbersome process. Magicplan aims to eliminate the painstaking manual processes behind fitting a room together. Using just a photo of a room, it can compute spaces and measurements between walls and objects. You can then annotate those photos with accurate measurements and use it as a comprehensive reference guide. Users can also estimate materials and costs for renovation projects.
Hutch
Everyone loves a good transformation, and Hutch allows you to see yours in full force. The interior design app recently raised $10 million from real estate platform Zillow. The company initially found exposure by going on Shark Tank as Zoom Interiors, and has since experienced some transformation of their own.
At its core, it's similar to other decorating apps like Houzz and Wayfair, but it differentiates itself with a slider tool that's worth downloading the app if not for that one feature. With this before and after feature, you can compare previous looks to updated spaces. It utilizes a cool slider feature where you can move back and forth between transformations for a complete look at your master design work.
Paper by FiftyThree
The FiftyThree team builds essential tools for designers and creators, and Paper by FiftyThree is exactly that: a tool for all the serious and wannabe designer out there who take the craft seriously. Design sketches and diagrams, take handwritten notes, and combine it with typed text and personal photos. Think of it like having a virtual, curated notebook for all your design thoughts. Check out this collection of tutorials to help you master Paper by FiftyThree.
Wayfair
With an average of 5 stars across 75,000 reviews, Wayfair is up there with Houzz on the interior decorating and shopping totem. Sort through thousands of decently-priced products. Once you find something you like, simply click "View In Room", and your camera will open to allow you to adjust the size, rotation, and placement of the product. You can then save and share the photo, and make any necessary purchases from within the app.
Wayfair is known for having high-quality products at affordable prices, making the the ideal all-in-one design app for everything from new homeowners to experienced interior designers.