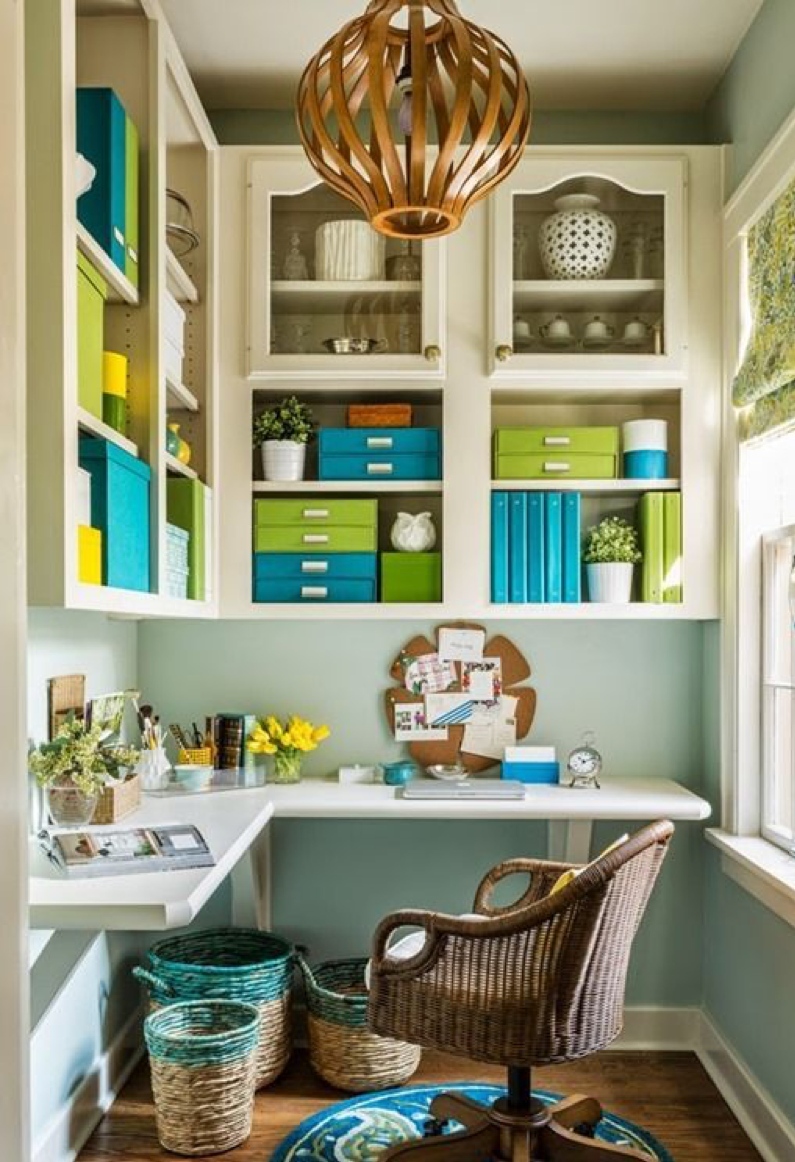 Working from your home office can feel empowering-when it is organized! Spring is here and if you listen closely, outside is calling your name. It is common knowledge that bringing nature indoors by incorporating plants into your home is great for your mental and physical health.   We all feel the itch to declutter and clean around this time of year, why not take a few moments, from being a boss, and organize your home office.
A study conducted at Indiana University found that people who kept a cleaner space were healthier than people who kept messy houses. Put these 8 simple tips into action in order to reap the mood boosting, mind calming, and overall sense of accomplishments that come with mastering the art of organization.
Wireless
Instead of taking up vital desk space, utilize wireless electronics whenever you can. Your mouse, printer, keyboard, speakers, and any other technological gizmo will give you the freedom to work anywhere in your room when you opt to ditch messy cable cords.
Take 10
Setting yourself up today for success tomorrow is as simple as committing to 10 minutes at the end of the day to tidy up your work space. Writing down to-do tasks, clearing out scrap papers, and organizing your desk are a few simple things you can do at the end of the day to keep your space prepped and ready to go.
Containers & Creativity
Use wall space to hang a shelf, a white, or black, board, or a calendar, or repurpose a metal magazine rack for additional filing space. Containers with labels work great to store office supplies out of site and out of mind for a crisp look and feel. Think outside the box and look up. Utilizing a small space means you need to be sure every square foot is functional.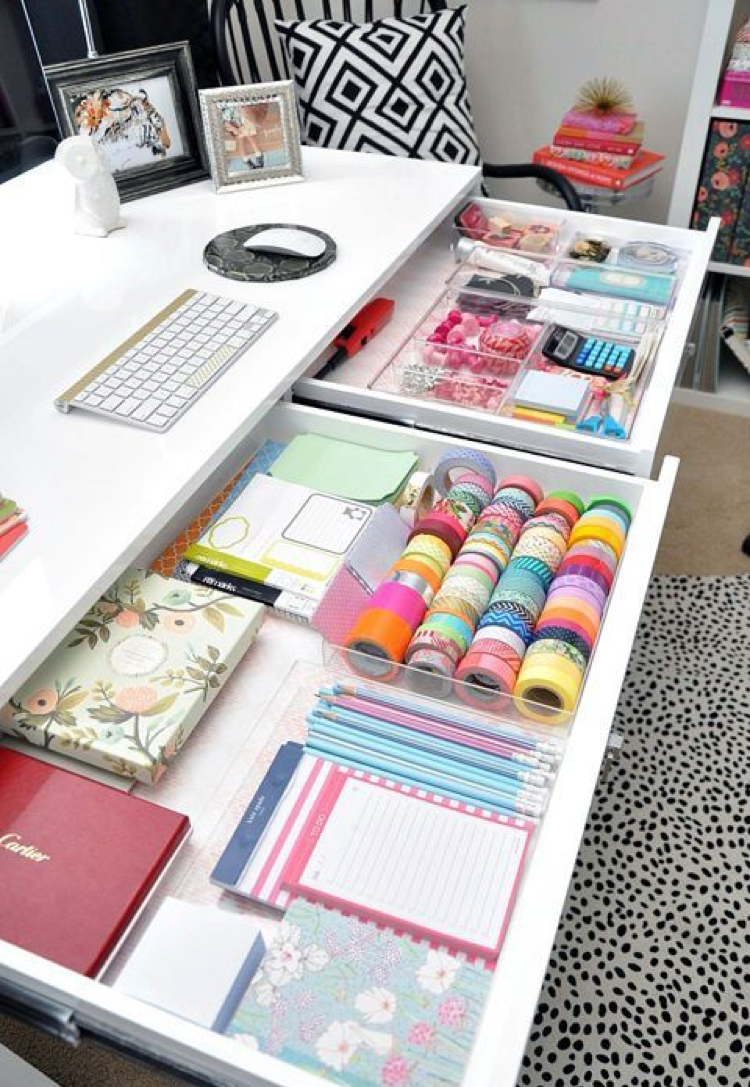 One In/ One Out
Avoid overloading your work area. A space that is crowded can negatively impact your mood and creativity levels. The one in- one out rule means that every item you bring in, an item similar has to go out. Think: furniture, office gadgets, and paperwork.
Punish Paper
Get rid of the paper mess to let your mind flow freely and tackle your tasks. Grab three boxes, folders, or even grocery bags and begin separating your giant pile of paper into three categories: to-do, file, throw away. Opt to digitally file any paperwork you can and back up those files often. Ensure any sensitive information on your paperwork is shredded before you throw it away.
Beautify Bookshelf
If you are a book lover, like myself, then you know the clutter a bookshelf can possess. Organize your books by color for a functional, economical, and eye-catching element of design. Figure out which books you want to keep, which ones you will give away, as well as which books need to be returned to friends or the library.
Functional Furniture
Avoid large desks, office armoires, and heavy tables because they encourage clutter and disorganization by making it easier for you to hide the mess. Wheels! Cabinets, chairs, tables and other pieces of furniture with wheels will give you ultimate flexibility with your room design as well as the ability to rearrange your space to suit your ever-changing needs.
Embrace Color
Weather on your computer or physically in front of you, using a colour coded system for filing is highly recommended. Because we recognize colours faster than words, you can easily memorize your categories, which turns you into a lean, mean filing machine.
About the Author: An acknowledged expert in luxury coastal properties with more than fifteen years of real estate experience,  Kym Talbert is devoted to serving the needs of homebuyers and sellers in coastal Orange County. Known for integrity and perseverance, Kym combines unparalleled customer service with a state-of-the-art web marketing presence.