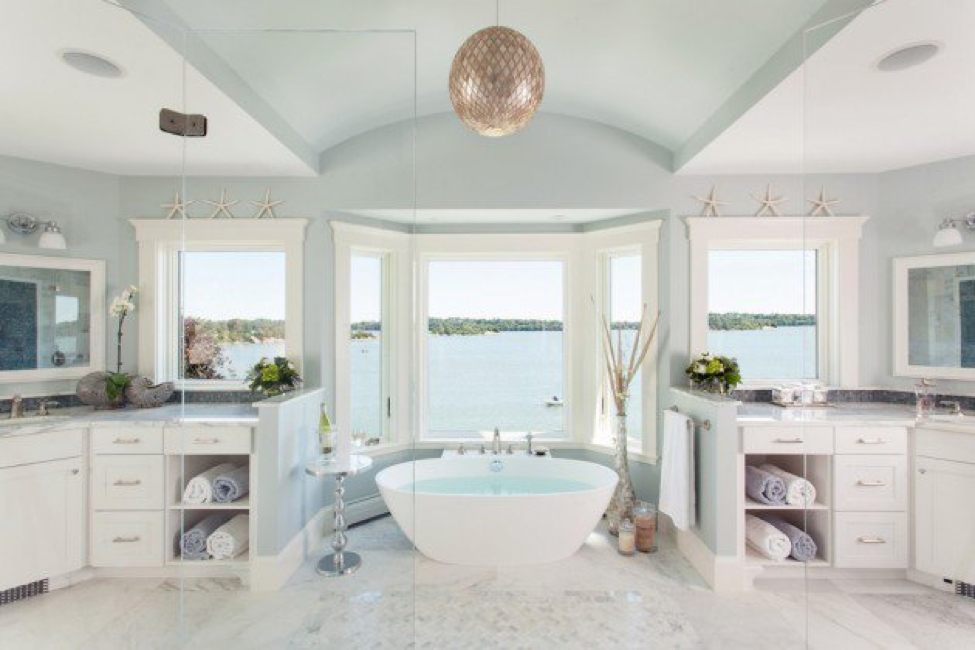 Main image source: Architecture Art Designs
https://www.architectureartdesigns.com/wp-content/uploads/2015/05/17-Beautiful-Coastal-Bathroom-Designs-Your-Home-Might-Need-16-630×420.jpg
A couple of weeks ago, we posted our roundup of the best master bedroom staging tips. Today, we'll focus on the the second most important part of the master bedroom: the in-suite master bathroom. The master bathroom plays such a critical role in a home that some even consider it the second most important room in a house (right behind the kitchen). Because home buyers know that they'll spend so much time here, it's critical that sellers make it as appealing as possible.
This is the place where design and comfort go hand in hand––potential buyers are hoping for a relaxing, spa-like atmosphere with all the bells and whistles. Luxury swings full force in the master bathroom, and if you stage and renovate right, it can hold phenomenal value on the market. With that in mind, here are our five best staging tips for your master bathroom.
1) Clear The Clutter
Normally, your bathroom sink might have toothbrushes, hand soaps, and other hygiene products on its counters. But when you're staging your bathroom, you'll need to clear all this out. This includes any hygiene or cleaning products that might be on your countertops, shelves, and shower. There's a bit of psychology behind this: when these personal items are on display, it can make the person visiting the home feel as if they're intruding. Furthermore, clear, clean shelves make the place look bigger, well-maintained, and better put together.
2) Invest In Some Upgrades
Not everyone has thousands to spend on grade-A upgrades, but there are plenty of cost-effective ways you can transform your bathroom space without breaking the bank. Here are a few simple alterations you can make that will jazz up your bathroom appearance:
Repaint the walls
Update cabinet hardware
Update towel bars
Install new lighting fixtures
Replace the shower screen
Frame the mirror
Add shelving
3) Incorporate Pretty Accessories
Once you've cleared your countertops, you'll have a fresh canvas for placing some thoughtfully curated bathroom accessories. Use your accessories to add warmth and elegance to the space, creating a layer of spa-like luxury that so many home buyers seek. Keep in mind that it's important to keep it simple and organized.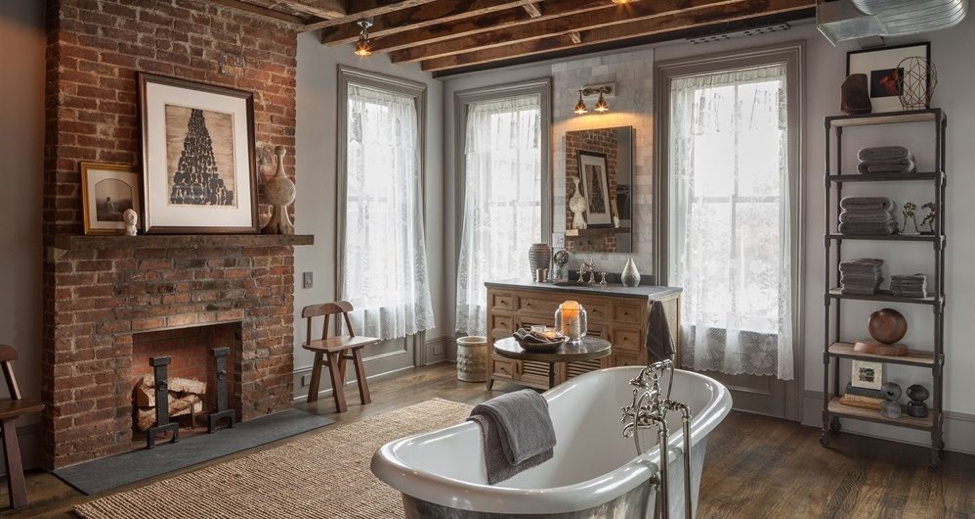 Image source: Coco Dsgn
https://www.cocodsgn.com/wp-content/uploads/2014/10/163.IS9lemm97kiv180000000000-998×530.jpg
A simple curated clutter of accessories is much better than spreading out a bunch of items around your bathroom. You still want the place to look clean and subtle. Group items together without looking overly strategic, and consider investing in a bathroom tray that fits your design aesthetic. Additionally, consider these bathroom accessories:
Fragrant soaps
Subtle, concentrated artwork
Basket or shelf for extra hand towels
Various-sized candles
Ladder towel rack (trendy in today's bathrooms––take at look at these ladder towel racks for inspiration)
A bold, waterproof rug
Perfumes, bath oils, and high-end lotions
Flowers and greenery (check out this list of best houseplants for your bathroom)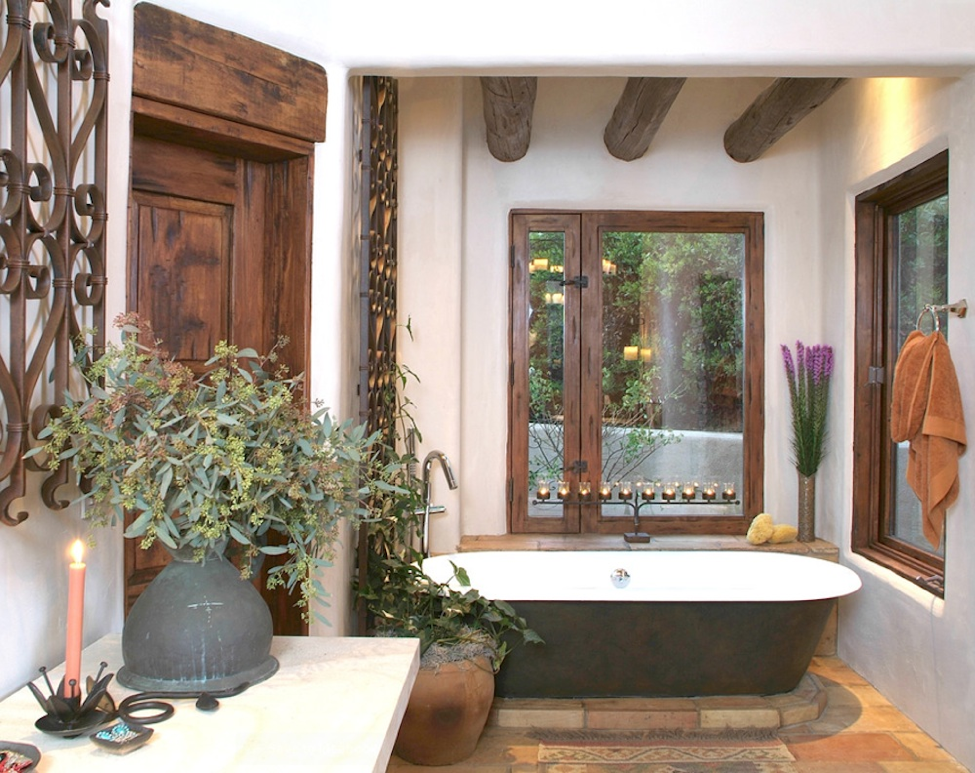 Image source: Fresh Home
https://cdn.freshome.com/wp-content/uploads/2014/05/Accessories.jpg
4) Add A Statement Piece
To really give your bathroom that full suite-meets-spa look, add a piece statement furniture. This could be a stool or ottoman that doubles as a bathside table. Or, you could add bench, armchair, or lounge seat, depending on your space. Dress up a wooden bench or stool with towels, potted plants, candles, or magazines or coffee table books. Check out this article on furniture ideas for the master bathroom. Here are some examples: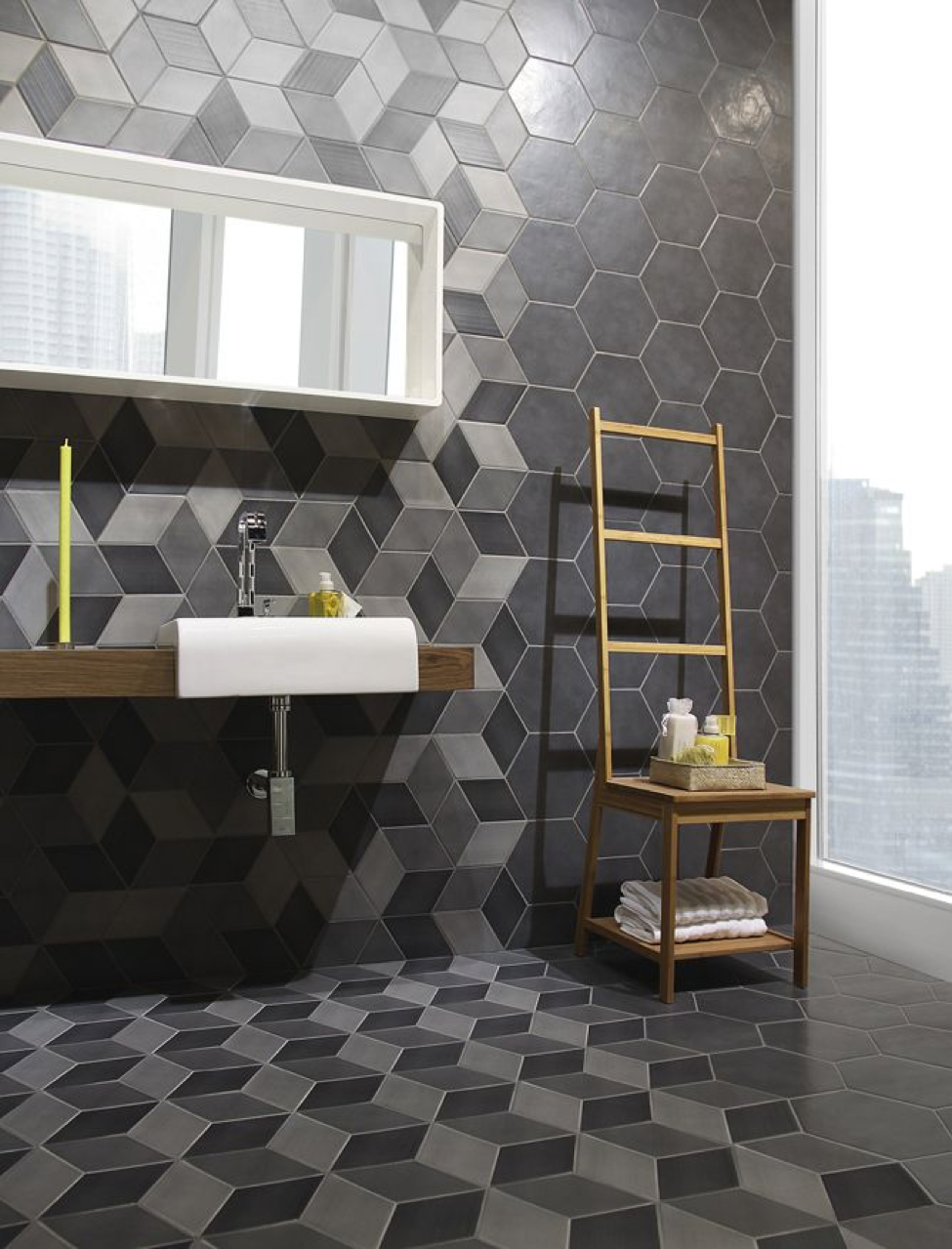 Image source: Houzz
https://cdn.freshome.com/wp-content/uploads/2014/06/design-bathroom-new.jpg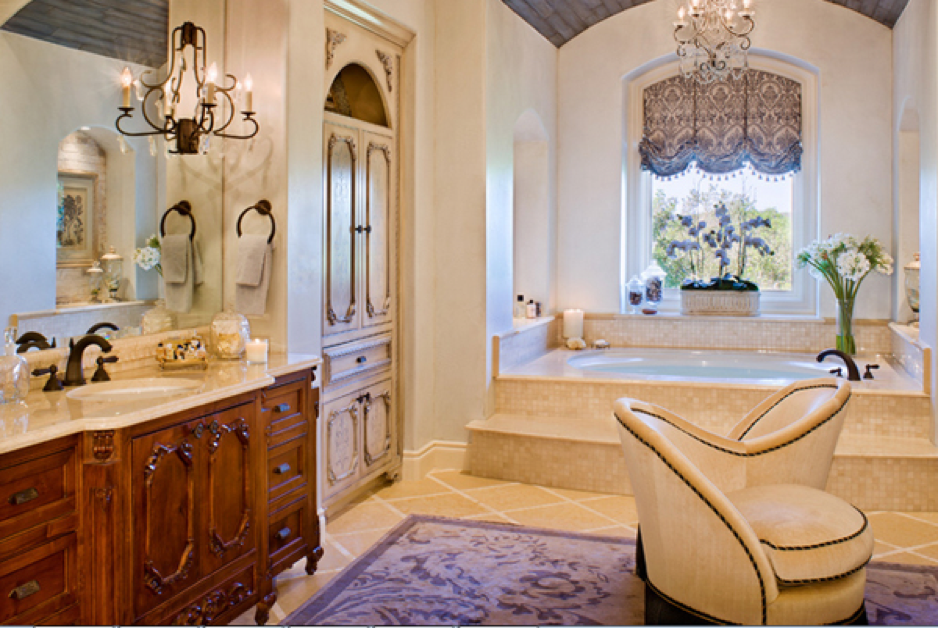 Image source: Home Design Lover
https://homedesignlover.com/wp-content/uploads/2014/12/3-Austin-Country.jpg
5) Show Off Your Storage
Storage is very important to homebuyers, and they'll open cabinets and closets to see how much storage is available to them. Demonstrate your storage potential in a decorative, organized way. Because your storage space will be staged, it should never be more than two-thirds filled. Utilize glass jars, trays (go for wooden or bamboo), and storage essentials like wicker baskets. Storage ladders, high-end bathroom carts, wall cabinets and shelves, crate shelving, and custom built-in shelving all make for fantastic storage options add combine design with optimal functionality.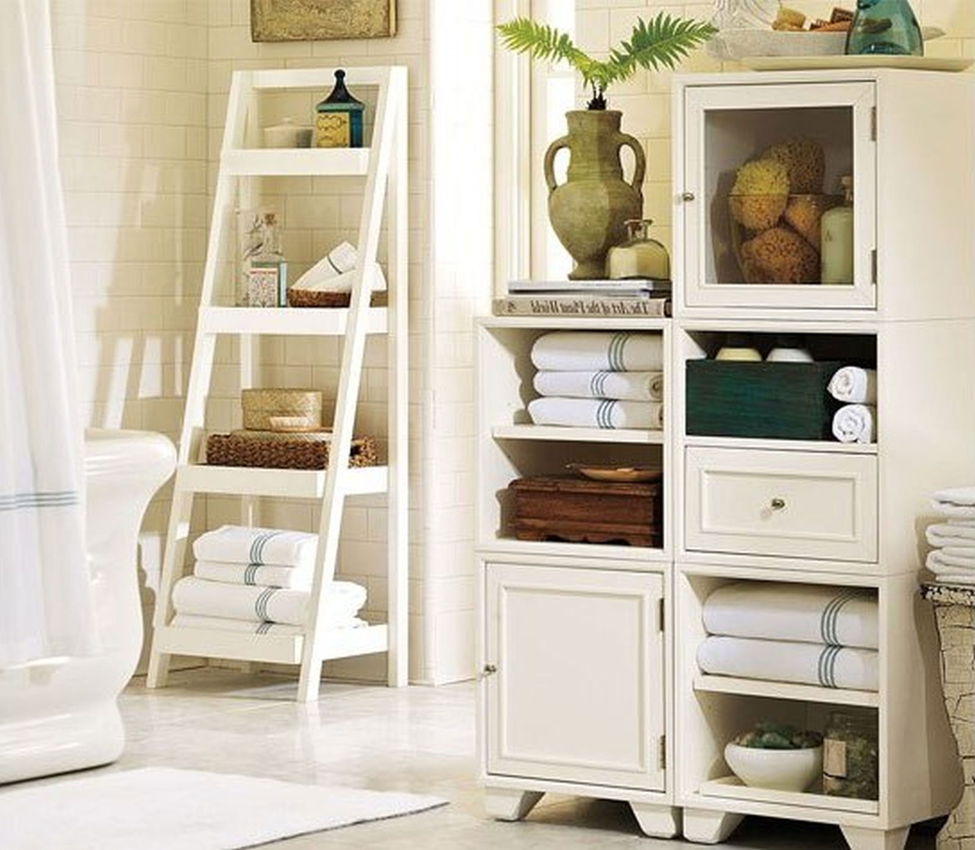 Image source: Pinterest
https://s-media-cache-ak0.pinimg.com/originals/84/f0/ca/84f0ca4fe0e636a42371ed07e8fa30bf.jpg