House flipping is the process of purchasing a property, rehabilitating it, and selling it for a profit later down the line. If you take the proper steps, house flipping can be a highly lucrative endeavor. If not, you'll wind up wasting plenty of time and money. If you make a bad decision, you could end up losing everything you own.
The last thing you want to happen is to end up in a position where you've invested dozens of thousands of dollars into a property and then find no one wants to purchase it. If this ends up being your situation, you could end up paying a mortgage and property taxes for an uninhabited property.
1) Work on Your Credit
If you have bad credit, it's best to work on it before you even consider house flipping. Working on your credit puts you in a favorable position in terms of house-flipping—as well as on a personal level. Credit is so important because chances are you'll need several lines of credit, and lending standards are pretty tight. Lenders are less likely to work with you if you pose a risk, so it's important that you check your credit score and credit report.
Search for any inaccuracies in your report that could be hurting your credit. Studies have found that one out of four Americans has an error on their report, and you'll never know until you double-check. Mistakes result in lower credit scores and higher interest rates. By analyzing your report, you'll also be able to better plan your improvement strategy moving forward—you'll be able to determine what is hurting your score.
2) Get Your Down Payment in Cash
Whether you're purchasing a home for your family or for a financial gain, you should prioritize getting your down payment in cash. One of the biggest mistakes that new investors make is getting down payments on a line of credit. When you come equipped with the cash for a down payment, you won't need to spend on private mortgage insurance. And keep in mind that interest rates are much higher for house flipping—typically between 12% to 14%, compared to 4% to 5% for traditional mortgages. Be sure to have the cash for a sizable down payment, and then you can then use your line of credit for renovations and home improvement.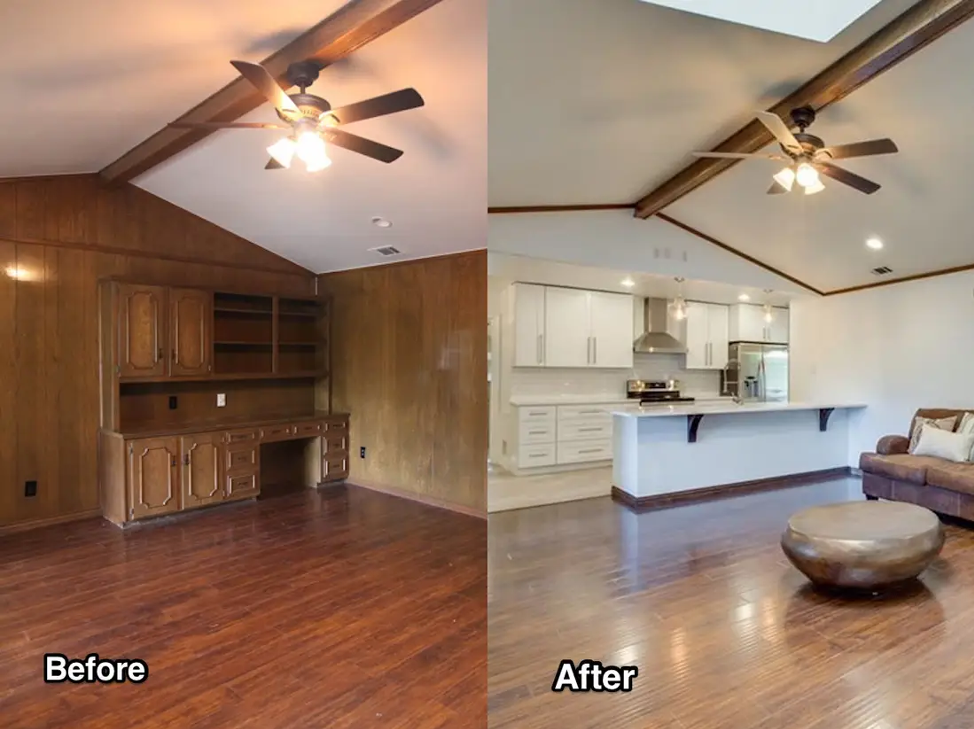 3) Make Smart Renovations
Not all renovations are created equal. Your goal is to make smart investments that offer a strong return on investment. This means refinishing and painting kitchen cabinetry, adding new hardware fixtures, installing new flooring, and cleaning up the landscape. Don't put all your time and energy into adding expensive marble countertops if it won't offer a large return. Furthermore, as you work out a renovation budget, add 20% of the budget sum for unforeseen expenses.
4) Get Some Auction Experience
Many home flipping wins start with getting the right property from an auction. Real estate auctions and foreclosed homes (though most homes on an auction are foreclosed homes) are great starting points. However, you should understand that purchasing a home on auction is riskier than by going through traditional means.
Traditionally, real estate auctions take place around county courthouses, and you'll need to register ahead of time to bid. Even if you don't plan to bid, you should attend auctions to learn more about what local properties are going for and how they're being bidded. You can find auctions on sites like Auction.com and RealtyTrac. From here, you'll also be able to check out foreclosure properties online.
5) Do Your Due Diligence
Before you purchase a home on auction, it's critical that you do your due diligence. You may even want to speak to a real estate attorney to sort through the documents if you're making a purchase for the first time. Doing early research helps you come up with the most accurate resale value of the property.
Do a title review to ensure there are no liens on the property, which you'd be responsible for paying. If you can, take a look at the property yourself. Either way, enlist the services of a professional, well-reviewed inspector. You'll also need to research the landscape and surrounding area. Are you in a natural hazard zone? Does the neighborhood have a history of crime? Is it easy to get around? Think about all the things you'd consider if you were purchasing a home for your own family, and use this as a basis for investment.
6) Conduct Market Research
As you examine the market, pay close attention to recent sales activity and buying and rent trends. This will give you a realistic idea of whether your property is likely to be a strong investment in the near future. As a general rule of thumb, it's better to buy a dilapidated home in a great neighborhood as opposed to a great home in a bad neighborhood. If you're diligent in your real estate research, you'll be able to notice trends that point to up and coming neighborhoods.