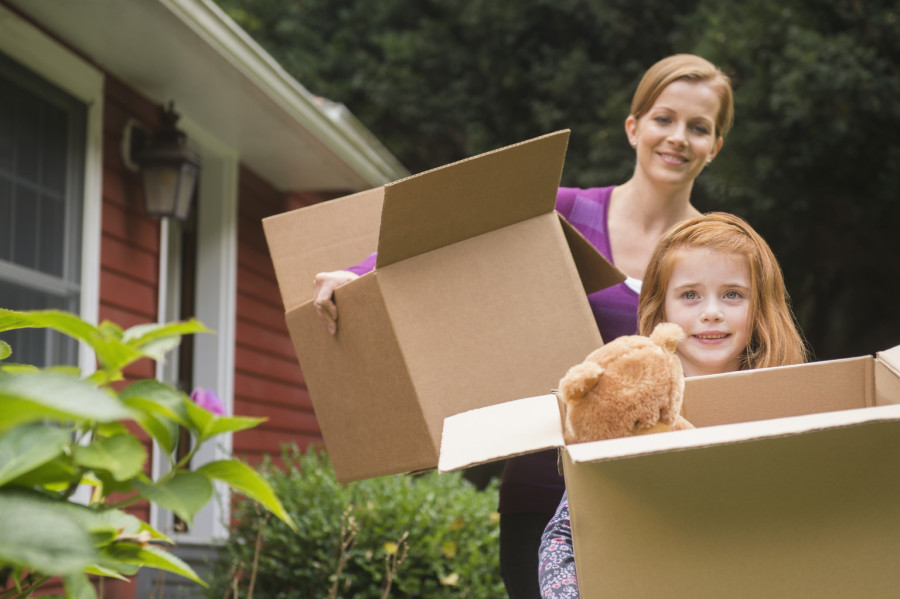 If you're considering the prospect of becoming a single homeowner, you're not alone. There's a common misconception that the majority of homeowners are couples and families. But contrary to popular belief, single mothers do have a track record of home buying. In fact, 66% of recent home buyers were single females, according to a 2017 report from the National Association of Realtors.
As a single parent, you're faced with making several tough decisions; not only are you undertaking homeownership independently, but you've also got a child or children to think about in the process. Knowing how to approach the process will make your home-buying experience that much smoother. With that in mind, here are five home buying tips for single parents:
Create a Budget
The last thing you want is to end up purchasing a home and living check to check. No one wants to own a home and only be able to afford to pay the mortgage. This "house poor" lifestyle isn't healthy for your day to day stress levels or for your children. First and foremost, go through each of your expenses and create a savings plan.
Determine what you can realistically afford to put away each month as you build up towards a downpayment, and be sure to add a healthy financial pad to account for unforeseen expenses and flexibility. Use an online affordability calculator to help you determine what you can afford with your budget. After you've input your monthly spend, income, and loan type, these mortgage calculators will help you determine the recommended price.
Enroll in a Single Parent Program
If you're a single parent that could use some financial assistance, you may qualify for government programs geared towards low income and single-parent households. For example,  the Federal Housing Authority (FHA) offers small down payment options for people with credit scores as low as 500.
You should also arrange a meeting with the U.S. Department of Housing and Urban Development (HUD). The HUD offers free counseling sessions that help you determine programs that are right for you in your city and state. They'll also answer any questions you have about mortgages home buying. Furthermore, HUD also sells properties for a more desirable price. However, always research the neighborhood statistics before you fall for a deal that seems too good to be true.
Consider Versatile Down Payment Options
Traditionally, the gold standard for a down payment on a home is 20%. However, as a single parent, chances are you aren't able to realistically afford such a high amount. Fortunately, there are other options you can consider. As previously mentioned, there are programs offered by services like the FHA, which offers 5% down payment for single parents with a credit score of 580. You may even be able to put down as little as 3.5%, while VA programs allow active military and veterans
There's also the piggyback loan, which reduces your down payment amount. A conventional 30-year mortgage doesn't make sense for everyone, particularly when finances are limited.  A piggyback loan is called the 80/10/10 mortgage. This type of loan may be better if you don't qualify for certain low-income programs.
With this loan type, you can finance 80% of a home with a mortgage, 10% comes from a second loan that's worth 10% of the home value, and 10% consists of the down payment. Some lenders may even consider an 80-15-5 arrangement, where the primary and secondary numbers correspond with primary and secondary loans. This type of loan offers a higher level of flexibility in terms of how your down payment is getting paid and where the funds for the down payment are coming from.
The primary benefit of piggyback mortgages is to help you avoid private mortgage insurance, which is required by lenders any time you put down less than 20% on a home. However, keep in mind that the second loan will likely have a higher interest rate than the first.
Hire a Real Estate Agent
One of the most crucial aspects of any home buying process is picking the right real estate agent for you. Real estate agents will make your experience much less stressful, particularly as a single parent. They are well-versed in the home buying process and can help you prioritize what you want and need in a home. Your agent will work through your checklist with you regarding features you consider important for you and your children.
For the best experience, you should talk to several real estate agents to get a feel for what works best for you. Come prepared with questions to ask your real estate agent about how they can help you. For instance, you might want to know whether the agent has experience working with single parents. You'll also want to know more about their availability, methods of communication, and how long they've been a real estate agent.
Let Someone Tag Along
Just because you're purchasing a home alone doesn't mean you have to go through the process as such. Whenever you go to open houses or to check out a property, take a trusted friend or family member along with you. Your trusted tag along may notice areas of the home that you didn't or will have valuable insight that you hadn't considered. Having someone by your side to talk out your thoughts and options can make it easier for you to sort through potential properties.
On the same note, you should bring your children along for the home buying journey, too. Change is often difficult for children, especially if you're going through a divorce or break-up. Keeping them occupied by involving them in the process will allow them to feel better about the situation, and show them that their opinions matter, too.