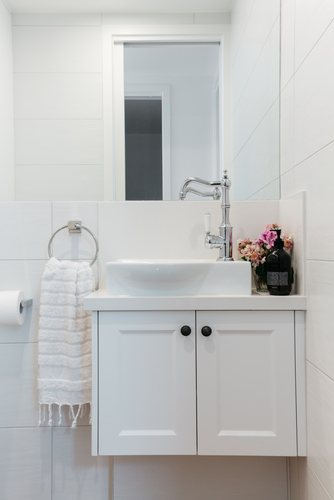 Powder rooms are a pivotal part of any luxury home. Its position and purpose make it one of the most used areas in the house, and some would even argue it's the most important room of all. Many homeowners lose sight of powder rooms because they're intimidated by its small size, or write it off as unimportant. Instead, luxury homeowners should translate that tiny space into a room of its own. It might be the smallest room in your home, but it likely gets the most traffic per square foot of space.
Rather than factor the powder room's size as a drawback, homeowners should view as potential to showcase their personal style and aesthetic. This is an ideal statement room that's perfect for a little experimentation. Here are some tips for designing the perfect powder room:
Give Your Sink & Faucet Some Style
The sink is an important part of the powder room, and simple adjustments in this area can go a long way. One way to add style and function is to bring in some stylish faucets. Vessel faucets tend to look well in powder rooms, and come in hundreds of variations, ensuring it will fit with any architectural design. Fancy faucets can be both modern or antique in appearance, and  should complement your sink well. Waterfall faucets are another popular option in luxury design.
Accessorize Your Space
Artwork and other decorative pieces create a more complete scene. You can accessorize your powder room by adding art to the walls: add many pieces to create cluster-art of color, or choose one statement piece to hang over or across from your toilet. Plants are another great way to accessorize your powder room. To save space, consider adding small plants to wall shelving. Air plants and succulents are trending in design are a simple, space-efficient way to integrate nature into the room. Lastly, throw in small candles and tea holders for a soft glow.
Throw In High-End Products
Little luxuries go a long way. Fancy soap dispensers, milled soaps, rich lotions, and plush, premium paper napkins and towels should be a part of your accessories list. For added flair, group these together in small vignettes on your countertops. If it aligns with your theme, use trays for your arrangement (like an antique silver tray or rustic wooden plate) to keep your products organized and balanced. And of course, keep toilet paper and room spray in plain site using baskets or wall shelves.
Your Mirror Matters
The mirror is the focal point of the powder room, and it should be given special attention. A large, extravagant mirror can make any space seem much bigger than it is. And without requiring cabinet space, you have creative freedom to choose a mirror that really speaks to your design approach. Whether your style is modern, rustic, or Victorian, there are plenty of fashionable mirrors to appease you. Take a look at this list of mirror inspiration to help steer you in the right direction.
Use Wallpaper
An extravagant piece of wallpaper can do wonders for a powder room. Unlike other bathrooms in the home, you don't have to worry about humidity and moisture from a shower peeling away at the paper. Utilizing wallpaper allows you to easily incorporate bold prints and colors. And this is the perfect room to play around with patterns: it can add a big personality to a small space without overwhelming the eyes. Florals, stripes, and geometric-style wallpapers are all great ideas.
For powder rooms with dark sinks and finishes, solid-color wallpapers can also make a dramatic statement: gold, purple, and deep shades or warm colors like red and orange can liven up the space. Bright powder rooms with pearlized finishes can be accentuated with softer colors like lilac, light blues, and periwinkle.
About the Author: An acknowledged expert in luxury coastal properties with more than fifteen years of real estate experience, Kym Talbert is devoted to serving the needs of home buyers and sellers in coastal Orange County. Known for integrity and perseverance, Kym combines unparalleled customer service with a state-of-the-art web marketing presence.